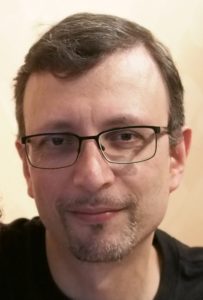 Salman Shami was born in Lahore, Pakistan in 1966 to a Pakistani Father and a Swiss Mother. He has written since an early age as a means of entertaining himself, family, and friends. Later he wrote junior fiction to have something to read to his own children at bedtime.
Salman has two Masters Degrees and is an Engineer by profession. A busy professional career meant little time to complete the arduous task of writing and publishing a book. 
That all changed after he was physically attacked for talking about the injustices caused by blasphemy laws in Pakistan. Shaken by the incident and determined to do something about it Salman decided to go to war with unreasonable people with the only weapon he believes in, the proverbial pen. He hopes to contribute to pushing back the tide of intolerance and hate that threatens to engulf humankind. His cross-cultural background and his experiences in Pakistan shape his unique viewpoint.
Salman has been an outspoken critic of religious fanatics all his life. This has brought him many enemies, some of them powerful. To get an engineering degree in Pakistan students were required to enrol in Islamic Studies. His lecturer for that subject was the same person who co-founded Lashkar-e-Taiba with Osama Bin Laden. Salman used to confront him with questions about of the contradictions in Islam such as why it permitted slavery or why women were not allowed four husbands. His lecturer banned him from his classes. As a young and rebellious teenager, Salman did not realise just how dangerous the man was or how close he had come to being on a kill-list.
During his university years, Salman publicly backed a secular student union against a radical right-wing youth party, Jamaat Islami. In the course of elections, which the secular group won, he escaped being glassed, shot at, and was nearly kidnapped. 
Salman lives in Australia with his family. When he is not writing, he travels, plays the guitar and tinkers with his classic cars.
Salman plans to follow up The Blasphemy Law with a sequel.